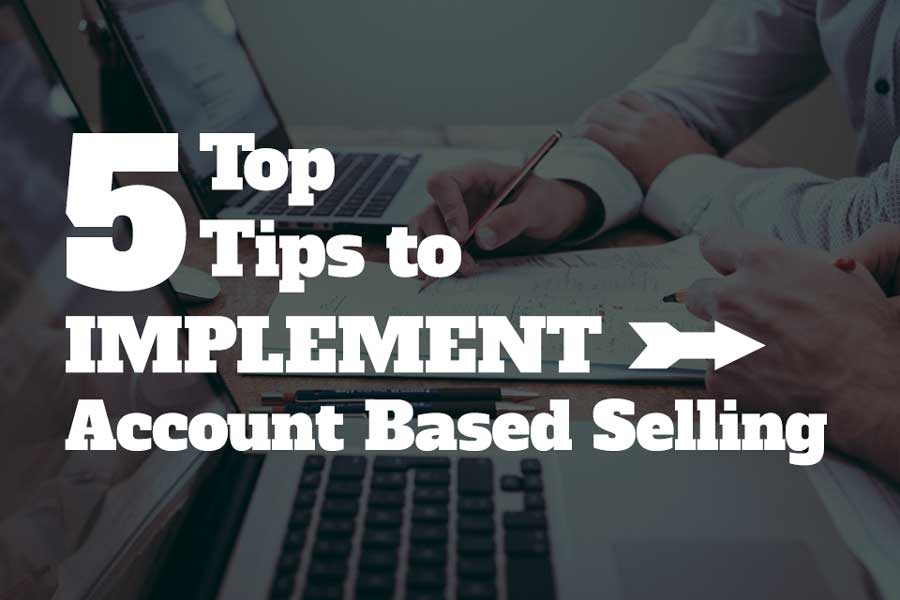 In account based selling, your success depends a lot on the steps you take to select targets prospects, research them, and match the right resources to reach out and follow up.
In How to Sell More with Account Based Selling Part 1, we looked at the first 5 steps to as a planning phase. These steps optimize your time and resources:
Having a plan
Setting realistic goals and expectations
Managing research time
Defining the target accounts
Setting your ideal customer profile.
Now you're ready to go!  Here are 5 tips to help you get the best results when you put your Account Based selling strategy into action.
6. Get Everyone Involved
Get the right departments and players involved to make the effort a success. First on the list is sales. They need to define the accounts that should be the focus of the account based selling initiative. They know which departments and contact titles they want to connect with. Sales will also work along with marketing to nail down the value proposition, messaging and buyer persona challenges and solutions.
You need another layer of effort to research and collect contact titles, emails, and phone numbers. It's important that a separate individual do this additional research, regardless of who is going to execute the account based selling initiative. The person may have a background in sales, marketing, or other function, but it is critical to get accurate data and to perform this time consuming task before this initiative begins.
Then, once you have collected accurate data on accounts, messaging, contact information, you need a CRM to manage the data, and resources to perform the initiative. It used to be that IT needed to be involved to import the necessary data, templates, and other assets into the CRM. But now it has become rather easy to import this data — the researcher or someone in sales or marketing may be able to import the information.
There are two additional departments that you may want to involve. One is the customer service department and the second is the professional services department. The customer service department is in constant contact with customers. They bring thoughts, insights and input on the challenges customers are having, which can be invaluable to messaging. Include them. I would also involve professional services. In enterprise accounts sales, professional services are in contact with customers and can also provide input to the account based selling initiative.
7. Decide What Happens After You Nurture the Accounts
Everyone is all gung-ho. You have determined a reasonable number of accounts to implement in a multichannel strategic account based selling initiative. Once the cadence is complete and you end up with a fair amount of opportunities, what happens to the accounts in which you never had a conversation with the designated contacts? What about discussions that did not uncover a present opportunity, or revealed that your prospect is using a competitor? You must nurture those accounts. You won't necessarily nurture them all in the same fashion, but you must have a strategy to nurture those accounts, as well as bring new accounts into the mix.
Not all nurturing is the same. Prospects using a competitor's solution will need different follow-up than a prospect using a manual solution. Lead nurture may be different still for accounts you have had no contact with during the account based marketing initiative. Nurture with care, and target your message appropriately.
8. Understand Pain, Resolution, Urgency, and Implementation
If you cannot uncover and resolve your customer's or prospect's pain, you will be hard pressed to convert account opportunities into revenue and sales.
The pain or challenges a prospect or customer faces, plus their urgency and plan to overcome them and relieve the pain is the eye of the tiger. These determine if a sale progresses or falters and the speed at which it does so. Let's take an example. The sale was progressing nicely but then it stalled. Phone calls, emails and texts went unanswered. You rushed and hurried to deliver the proposal you believed to be the answer to their prayers, yet the field representative has no idea what the prospect's or customer's thoughts are on it. The field representative is under stress to meet a number. It's three weeks into the month, and they are dumfounded that they have not received a response from a contact who was hot and heavy to move forward.
The field representative needs this deal to close. Every possible scenario runs through their mind, but it's all hearsay since the prospect or customer has gone silent and the representative has no idea why. In most cases, the one way to resolve this scenario is to go back to the pain the prospect or client was experiencing, the internal resolution that you have mapped out with their team and the urgency that was driving the sale. Review as well their mindful plan to roll out the initiative successfully.
The SDR is most often the first person to have a conversation with the prospect or client.
It is imperative that the SDR discuss the prospect's or client's pain or challenge. Equally important is to discuss the urgent reason to overcome this challenge and how they are going to have their initiative succeed.
Understanding this type of conversation with the right level prospect or customer is key to uncovering an account opportunity. If an SDR or sales is not having this discussion with this prospect or customer, three things happen: (1) appointments cancel, 2) deals stall and 3) revenue suffers.
9. Task People With the Right Skill Level
If you've spent the time to plan this strategic account based selling initiative, make sure you have the best resource executing it. Many times a resource performing other functions may be assigned to execute the strategic account based selling initiative on top of their existing responsibilities.
In other cases, an inbound SDR or team is expected to successfully execute the strategic account based selling initiative. Do these actions look familiar? Stop. This list is by no means exhaustive, but it does outline a few pitfalls that are important to avoid if you are going to succeed with account based selling or selling in general.
First and foremost, the person executing the initiative should be consistently committed and dedicated to the initiative. If they have other responsibilities, it becomes unclear how to prioritize their time. Usually, they end up performing whichever task pays the most.
Second, one needs innate enthusiasm, excitement, stamina, curiosity and motivation, not only to do the job but to achieve success.
Third, one must have keen problem solving ability to engage prospects and customers in discussions and uncover a problem. Strong relationship building skills are also required. SDRs must build strong relationships with the prospect or customer. Those carrying out your initiative also must build and maintain strong working relationships with the account owners they support, such as the field representatives they may be working with on their accounts.
10. Be Creative Test, and Refine
Putting together an account based selling initiative takes time, resources and planning. Account based selling in not a new concept nor is it new to many companies, but it has its hurdles and challenges.
Be creative in this multi channel exercise. Try a different cadence and see the results you get. Try a new form of media in addition to social, calls and email and see the results you get. Try a varied message and see what happens.
If what you are doing is working, keep it. If not experiment. Be adventurous until you get the results you are looking for. Most importantly, test refine and have fun until your pipeline is bursting with qualified opportunities.
What is the most valuable change you can make to your inside sales process today? A no-cost phone assessment is the best way to see
Let's Talk..